Atlanta Airport Slip and Fall Accident Attorneys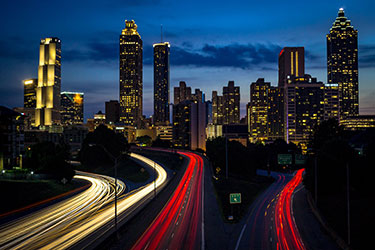 We are a team of skilled personal injury attorneys who are committed to helping victims and their families who have been injured from a slip & fall because of the negligence of a business or other property owner.
Our experienced premises liability lawyers will fight to hold the other party responsible and to secure full and fair compensation for your losses. We have offices in Atlanta, Athens, and Lake Oconee, and handle cases throughout Georgia.
I Fell at the Airport, Now What?
Hartsfield-Jackson Atlanta International Airport is the busiest airport in the world, with nearly 104 million passengers in 2017 and an average of 250,000 daily passengers. The airport has a legal duty to keep visitors and travelers safe on its premises, but victims sometimes suffer devastating injuries if employees and staff at the airport fail to take the proper precautions.
If you slipped or tripped and fell while at Hartsfield-Jackson Atlanta International Airport, there are several factors to consider when determining whether you have a valid case.
Are Airports Liable for Slip and Fall?
Hartsfield-Jackson Atlanta International Airport is currently owned by the City of Atlanta. In Georgia, when pursuing a claim against a city, there's a strict notice requirement called an ante litem notice.
This notice requires a plaintiff when suing a city, to give the city notice within six months of an event that causes an injury or damages. The ante litem notice is not a statute of limitations, rather, it's a strictly enforced notice that's required to file a claim. O.C.G.A. § 36-33-5
The Atlanta airport also has multiple companies and contractors that are responsible for various aspects of operation such as cleaning the floors, transporting passengers, maintaining the elevators, maintaining the escalators, and more. Part of the challenge in an airport injury case is determining who is responsible. We can help.
Why did you fall?
Was there a hole or defect in the floor? Was there a faulty elevator? Was there a tripping hazard such as a lifted rug in the middle of the walkway? Was the floor wet due to a spill? All of these are valid questions to ask and could be the determining factor in whether you have a valid case.
Common Causes of slip and fall accidents at the Atlanta airport
Poorly maintained flooring
Bunched up or torn up carpet or rugs
Slippery floors from cleaning
Slippery floors from uncleaned spills or trash
Poor lighting
Uneven sidewalks or floors
Uneven ramps
Broken ramps or escalators
Broken or uneven handrails
Icy, wet, or poorly maintained sidewalks or boarding ramps
Tripping hazards while entering or exiting elevators, escalators, stairways, or ramps
You can learn more about whether you have a valid slip and fall case here.
Serious Injuries from Atlanta Airport Slip and Fall Accidents
Falls cause millions of visits to Georgia emergency rooms each year. The elderly and children are often more vulnerable. The National Council on Aging reports that every year in the U.S., more than 1/3 of adults 65 and older experience a fall, with approximately 1/3 of fallers sustaining an injury.
In Georgia, from 2005-10, more than 1.5 million people visited emergency rooms due to fall-related injuries.
Falls are also the leading cause of injury-related hospitalizations for Georgia children aged one to 19 – and from 2005-09, adults aged 60-years-old and older accounted for 83 percent of the state's fall-related deaths.
Slip and fall accidents at the airport can cause serious, debilitating injuries that require ongoing treatment, significant medical expenses, surgery, and pain and suffering.
Many times, a fall can also lead to missing work and therefore a loss of wages. Some serious injuries commonly associated with slip and fall accidents include:
Broken bones such as hands, legs, arms, or hips
Torn ligaments or tendons that require surgery and ongoing medical treatment and rehab
Traumatic brain injury
Spinal cord injuries or paralysis
Skin lacerations that cause nerve damage, blood loss, and severe scarring
Herniated discs
Infections
Death
A History of Results
We have a proven track record of securing millions of dollars for our deserving clients.
A skilled attorney who specializes in these types of cases can help you navigate the legal side of things by investigating your case and determining whether you have a valid one. They can conclude whether you fell as a result of someone else's negligence based on witness testimony, video or photo evidence, and by researching airport protocol.
For instance, if an airport worker spilled something and failed to contact the janitorial service, or they did contact the janitorial service, but no one responded for a long while, then it's probable that you fell because the property owner was negligent. But, you may still be held to a certain degree of responsibility based on other factors in the case.
We can help clarify the facts and build your case.
We are experienced in handling slip/trip and fall cases and know all the right questions to ask. One of our slip and fall accident attorneys can walk you through these questions and advise you in how to best move forward. If you think you have a case, contact one of our Georgia slip and fall attorneys today at (706) 354-4000, or fill out the case review form below or at the top of the page to set up your free consultation.
There's never a fee unless we win your case. Blasingame, Burch, Garrard & Ashley, P.C. has offices in Atlanta, Athens, and Lake Oconee, and we handle cases across the state of Georgia.
Were You Injured at Hartsfield-Jackson Atlanta International Airport?
Can you please provide details on what happened and the injuries you suffered below: